Advertising service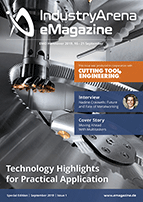 Multimedia eMagazine for Manufacturing Technology and Automation
The IndustryArena eMagazine is more than just a professional journal. It offers high-quality editorial content that turns news and information into an inspiring experience. It's not only reading, it's clicking, watching, listening and discovering.
Our eMagazine surprises, piques one's curiousity and challenges reader and editor.
Above this, from 2017 on a new era has begun: in addition to a new design, the transition to HTML5 allows you to read your eMagazine on all your terminal equipment.