Mitsubishi Electric to Launch 1200V SiC Schottky Barrier Diode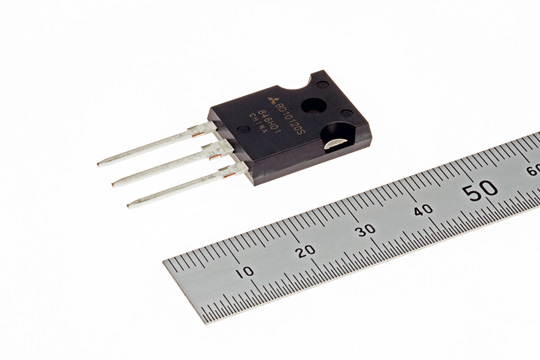 Mitsubishi Electric Corporation announced today its launch of a new 1200V silicon-carbide Schottky-barrier diode (SiC-SBD) that reduces the power loss and physical size of power supply systems for infrastructure, photovoltaic power systems and more. Sample shipments will start in June 2019 and sales will begin in January 2020.

The diodes will be exhibited at major trade shows, including MOTORTECH JAPAN 2019 during TECHNO-FROTIER 2019 at the Makuhari Messe exhibition complex in Chiba, Japan from April 17 to 19, PCIM Europe 2019 in Nuremberg, Germany from May 7 to 9, and PCIM Asia 2019 in Shanghai, China from June 26 to 28.
Product Features
1.) Silicon carbide helps to reduce power loss and package size
• Improved energy conversion results in about 21% less power loss compared to silicon (Si) products
• Enables high-speed switching and downsizing of peripheral components, such as reactors
2.) Improved reliability thanks to junction-barrier Schottky (JBS) structure
• Combines Schottky barrier with p-n junction
• JBS structure helps to achieve high reliability
3.) Expand lineup for various applications
• The TO-247-2 package, with its enlarged insulation clearance distance, joins the existing TO-247 package to cover a wide range of applications, including consumer goods.
• Compliant with Automotive Electronics Council's AEC-Q101 specification for automotive use (only BD20120SJ)
Responsible for the content of this press release: Mitsubishi Electric Europe B.V.
---
Contact
Mitsubishi Electric Europe B.V.
Mitsubishi-Electric-Platz 1
40882 Ratingen
Germany
+49 2102 486 5000
+49 2102 486 5910
Route planner