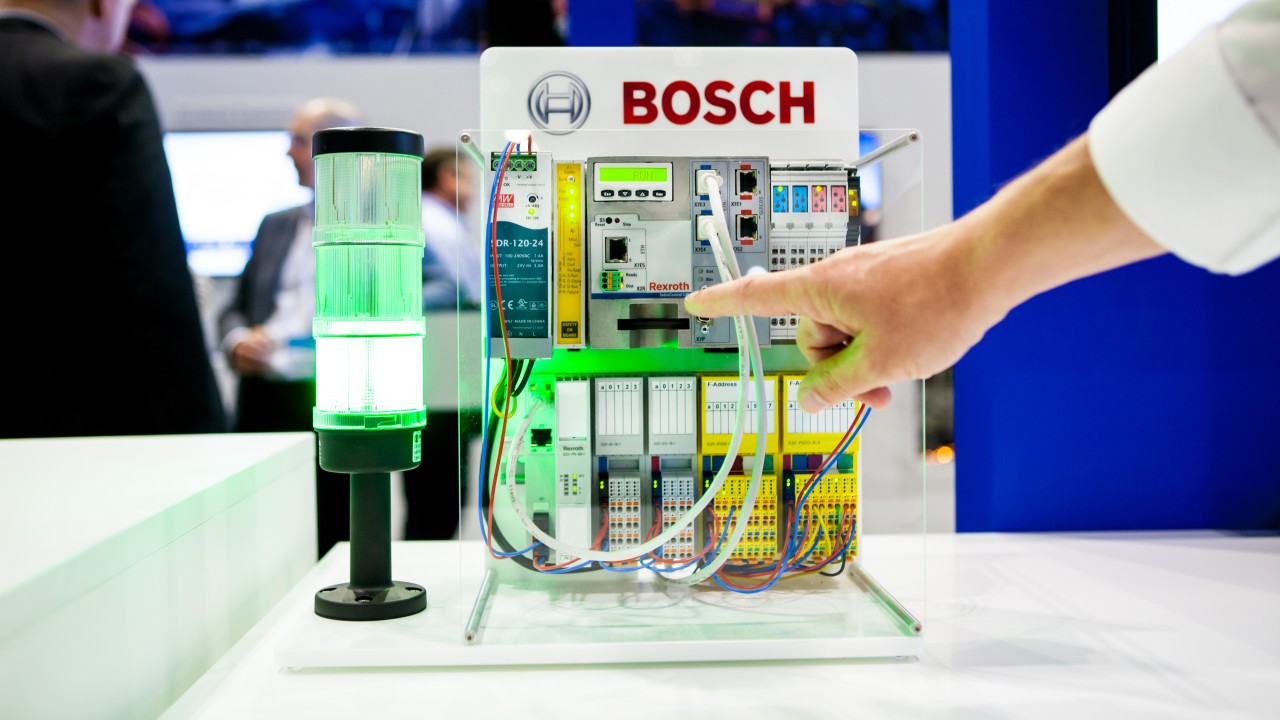 Machine communication in real time: at the European Digital Summit in Tallinn, Estonia, Bosch and Nokia are showcasing a demonstration that combines the upcoming 5G mobile communications standard with Industry 4.0 solutions. 5G boosts the fastest transmission speed currently possible on mobile communications networks by a factor of ten to over ten gigabits per second. More than that, the standard also improves real-time performance and transmission reliability in particular. Both parameters are key prerequisites for wirelessly connecting hundreds of billions of smart actuators and sensors in factories and production lines, and to process the massive data volumes generated in manufacturing. At the same time, super-fast data transfer is a key prerequisite for companies in Europe and around the world. "Industry 4.0 knows no borders," says Dr. Stefan Assmann, who is responsible for connected industry at Bosch.
"Working together with Nokia, we are already exploring the potential that the large bandwidth of 5G will open up for the factory of the future," says Rolf Najork, the president of Bosch Rexroth AG. The wholly owned Bosch subsidiary specialized in drive and control technology developed the demonstrator in collaboration with Bosch corporate research and Nokia.
"5G will be a key enabler for Industry 4.0. It is the first wireless technology that can complement wireline for all industrial applications, enabling extreme flexibility in production, cutting costs, and creating a safer working environment. Together with our partner Bosch, we are exploring the new possibilities 5G can provide for the Fourth Industrial Revolution," says Hannu Nikurautio, head of 5G technology and market scouting at Nokia.
Experience in connected industry from over 270 factories
Overall, Bosch brings to the table extensive experience with Industry 4.0 solutions from its more than 270 factories. The technology company uses this experience to develop connected solutions as a leading provider for other players in the sector as well. Nokia, on the other hand, is one of the world's leading suppliers of equipment for telecommunications infrastructure.
"As automation specialists, we intend to expand our 5G collaboration with Nokia to include other fields like augmented reality, autonomous and driverless transport systems for in-house materials flows, and cloud-based manufacturing applications," Rolf Najork says. "Coinciding with the introduction of the new standard, Bosch Rexroth will offer 5G-capable products and solutions that will allow our customers to increase their productivity."
5G is expected to be introduced from 2019 and to enable new business models based on manufacturing data. Bosch is already working with an array of IT companies and machine manufacturers with the aim of driving forward Industry 4.0 in a cross-technology effort.
Bosch and Nokia are showcasing the demonstrator they have jointly developed at the Tallinn Digital Summit in Estonia. Estonia is holding the summit as part of its presidency of the European Council. Many European heads of state and government will be attending the event on September 29 to share information and find out more about the future of digital technologies and their implications for daily life.