Scottsdale, Arizona, in March 2012: Geometric Limited (BSE: 532312, NSE: GEOMETRIC), a leader in Product Lifecycle Management (PLM), Global Engineering Services and Offshore Product Development (OPD) solutions and technologies, will showcase the latest release of its solid-based CNC programming solution, CAMWorks® 2012, along with its new 2.5D CAM package, CAMWorksXPress® 2012 at the WESTEC® 2012, Booth #2744, Los Angeles Convention Hall, Los Angeles, Calif., from March 27-29, 2012.

These products will be demonstrated at the booth throughout the three day conference. Attendees will also have the opportunity to attend an interesting session, 'CAD/CAM Automation - From Orders to Parts' at the Learning Lounge on Wednesday, March 28, 2012 from 2:30 - 3:15 p.m. by Marc Bissell, Senior Applications Engineer, Geometric.

"WESTEC is the perfect platform to connect with manufacturers from the West Coast, who are seeking options to effectively maximize productivity. Geometric provides manufacturers easy-to-use CAM products that are seamlessly integrated into SolidWorks®, giving our customers powerful tools to optimize and evolve their CAM automation process", says Donald Dorsey, Channel Sales Manager, Geometric Americas, Inc.
During the event Geometric will showcase:
CAMWorks 2012: With support for SolidWorks 2012, CAMWorks 2012 has a number of enhancements to enable faster and easier programming, and to produce more efficient tool paths for improved machining productivity. CAMWorks 2012 now includes a new plate nesting solution, which is integrated within SolidWorks. This program is used to generate optimized nested layouts of Parts and/or Assemblies. Using CAMWorks Nesting a user specifies single or multiple material stock, the part-to-part distance, and stock margins. The result is a SolidWorks assembly document of the nested layout. This nested layout can be machined by CAMWorks or used by any other application. For more information on CAMWorks, please visit http://www.camworks.com.

CAMWorksXpress: CAMWorksXpress is an ideal solution for programmers and machinists, as well as new users, who are looking for an easy to learn and easy to use 2.5D machining CAM package. CAMWorksXpress is a powerful yet inexpensive tool that runs seamlessly inside SolidWorks and provides high-powered features required for machining efficiently. For more information about CAMWorksXpress, please visit http://www.camworksxpress.com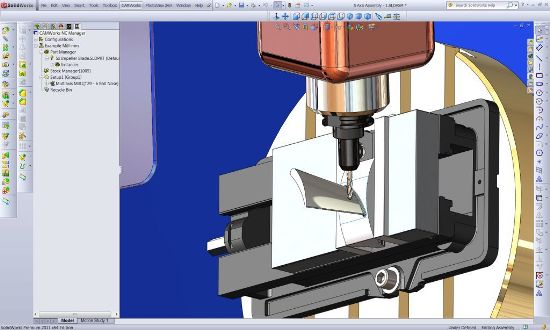 About WESTEC
WESTEC is the largest manufacturing event in the West Coast of USA. It is a platform to showcase the latest technology developments, integration and solutions. Manufacturers receive an opportunity to meet the experts who can help apply cutting-edge equipment, make sense of lean methods, and manufacture with composites, titanium, or other advanced materials. For more information visit http://www.westeconline.com

About Geometric
Geometric (www.geometricglobal.com) is a specialist in the domain of engineering solutions, services and technologies. Its portfolio of Global Engineering services and Digital Technology solutions for Product Lifecycle Management (PLM) enables companies to formulate, implement, and execute global engineering and manufacturing strategies aimed at achieving greater efficiencies in the product realization lifecycle.

Headquartered in Mumbai, India, Geometric was incorporated in 1994 and is listed on the Bombay and National Stock Exchanges. The company recorded consolidated revenues of Rupees 6.21 billion (US Dollars 136.47 million) for the year ended March 2011. It employs over 3900 people across 11 global delivery locations in the US, Romania, India, and China. Geometric was assessed as CMMI 1.1 Level 5 for its software services and is ISO 9001:2008 certified for engineering operations. The company's operations are also ISO 27001:2005 certified.

Geometric's Geometry Technology Solutions (GTS) business unit develops cutting-edge point productivity solutions that enhance design and improve manufacturing operations. The end-user products from Geometric include CAMWorks®, eDrawings® Publisher, DFMPro, GeomCaliper®, 3DPaintBrush™, CAMWorksXpress® and Glovius®. The key technologies from Geometric are NestLib®, Feature Recognition (FR), GeomDiff and 3DSearchIT®. Geometric licenses these technologies to OEM partners and also designs and implements customized process solutions using these technologies for industrial customers.

For further details about Geometric's GTS business unit, please visit www.geometricglobal.com/products or call +1.480.222.2255