HIT—the new CNC learning solution from HEIDENHAIN. HIT stands for HEIDENHAIN Interactive Training. This didactically designed learning solution teaches the most important elements of a CNC machine and imparts fundamental knowledge about CNC programming. HIT is intended for students and teachers who are occupied with the topics of CNC programming and machine operation. This can include vocational school students as well as retrainees, but of course also the vocational school teacher. Or master craftsmen who want to improve their machinists' skills in machine operation in order to address the lack of qualified workers. The interactive learning software is available as an economical download at www.heidenhain.de/eLearning.
This entertaining software for qualified fundamental and advanced training explains programming with HEIDENHAIN controls. It combines theoretical training with practical exercises and therefore simplifies the beginning steps of programming. The HEIDENHAIN learning solution also provides the necessary technological background knowledge. In this way it proves useful even for people yet unfamiliar with CNC fundamentals.
Affordable even for students
Requirements for the skills of machine operators are constantly changing, so training also has to be adapted. With its new learning solution, HEIDENHAIN wants to ensure a high level of CNC programming and to help machine operators and retrainees to learn the skills of CNC programming on machines as soon as possible. This is why HEIDENHAIN provides multiple licenses for schools at manageable costs (under 400 euros!). And at under 50 euros, even the single-license versions are quite affordable for apprentices and retrainees.

Improving CNC advanced training: from the career changer to the retrainee
The reasons for learning programming skills on CNC machines can vary greatly among individuals. For example, if a vocational student is interested in programming and would like to learn more on his own initiative, he'll download HIT onto a home PC and can immediately start using the newly gained knowledge to improve his grades in school. The career changer, on the other hand, knows full well that operating a machine tool requires the very best skills he can offer. He'll be studying with HIT to be as qualified as possible for his approaching job interviews. With HIT, the vocational school teacher can show his students how CNC controls operate and have them program fixed cycles for practice. In addition he can use HIT to impart general knowledge about the machine tool and its control as a preliminary stage to actual programming. This explanation of fundamentals also makes things easier for the career changer.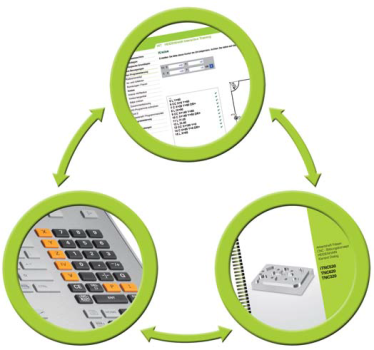 HEIDENHAIN Interactive Training (HIT), is an exciting learning solution HEIDENHAIN CNC controls. It consists of three modules: the HIT software, HEIDENHAIN programming station, and the HIT workbook

Interactive training in three modules and various languages
As a learning solution for HEIDENHAIN controls, the HEIDENHAIN Interactive Training program combines theoretical learning with practical exercises into an autodidactic educational strategy. The interactive solution for qualified basic and advanced training consists of three modules: the HIT software, HEIDENHAIN programming station, and the HIT workbook.
The HIT software supports you when you begin programming with HEIDENHAIN controls. It explains the control functions with the aid of animations, small tasks and exercises. Once learned, the new knowledge can be verified through tests.
The programming station is an identical image of the HEIDENHAIN TNC machine tool control. With it, the machine operator or career changer can create NC programs just as on the real control. You can write these programs, simulate them graphically, and then transfer them to the machine tool.
The third module, the HIT workbook, uses examples to accompany the user through assignments in manufacturing parts. It contains many assignments and numerous programming examples.
Interactive operation and comprehensive test assignments precisely monitor your progress, making it possible to continuously reflect on what you have learned. The new knowledge is tested and consolidated.

HIT is available in various languages, both for HEIDENHAIN conversational programming as well as for DIN/ISO programming.
EDITORIAL RESPONSIBILITY IS HELD BY: Dr. Johannes Heidenhain GmbH