First automation solution in measuring and inspection technology
Decreasing manufacturing tolerances and an increasing cross-industrial demand for traceability more and more require a 100% inspection of the tools.
Today modern grinding machines are equipped with loaders. They grind tools in large quantities and can no longer be measured or inspected manually.
Automatic control, traceability and documentation have therefore become inevitable – also with regard to measuring technology.
With the »roboSet«, ZOLLER offers an efficient automation solution for all companies with high tool throughput levels.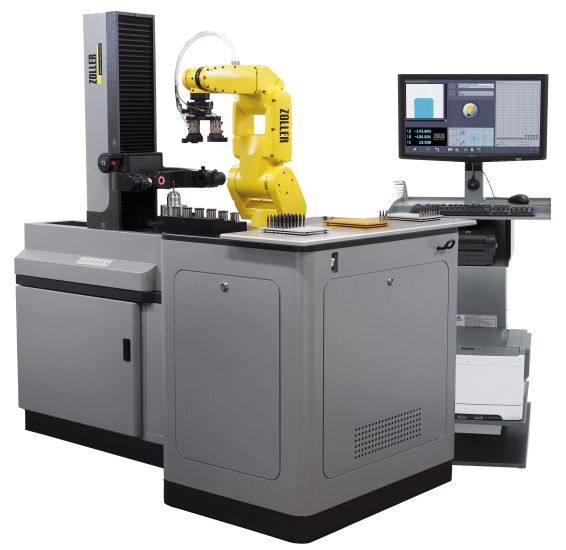 Fully automatic unmanned measurement of tools: ZOLLER automation solution »roboSet«
»roboSet« loads your ZOLLER measuring device right around the clock in unmanned mode, 24 hours, 7 days a week. Complex measuring tasks can be
proccessed in a fully automatic way, and 100% inspection is guaranteed.
All tools can be measured without further user input, and customer specific pallets can be defined.
The operation is very simple: press the "Start" button in the pilot software and automatic operation commences.
The physical separation from the measuring device assures the highest standards of measuring accuracy. The automatic track correction of the robot at every chuck-loading operation ensures high process liability.

Using a 'pallet administration' facility incorporated in ZOLLER's »pilot 3.0« software, loading configuration and parameters are defined. That means that all tools can be measured without further user input. The operator can define customer-specific pallets as required for quality control.
After completion of the measuring process the tools can be deposited sorted in different pallets. Measuring values for the individual tools are
stored in »pilot 3.0« and can be sourced and issued. They can be loaded and printed at any time when required.
As an option the combination with a laser writing device is possible to label the tools clearly and ensure a complete documentation.

With »roboSet« ZOLLER sets new standards for efficient quality control. The automation solution »roboSet« will become a major part in the "smart factory"
of the future.
Pictures: ZOLLER