We are pleased to invite our French speaking audience to our ULTIMA webinar on 19 November 2020:
CompAir présente la solution la plus efficace au monde sur le plan énergétique Compresseur sans huile Ultima de 75 à 160 kW.
Date: 19 novembre 2020
Temps: 10:00 AM CET
Langue: Français
Durée: 30 minutes
Nous vous invitons à notre webinaire gratuit sur Ultima™, le compresseur à vis sans huile révolutionnaire PureAir de CompAir, organisé par le chef de produit, le Jean-Luc Amsellem.
La conception unique de cette gamme de compresseurs sans huile de CompAir offre des niveaux d'efficacité exceptionnels par rapport à la technologie traditionnelle sans huile. Si vous considérez que le coût le plus élevé du cycle de vie d'un compresseur est l'énergie nécessaire à son fonctionnement, l'Ultima a été conçu pour combiner une performance ultime avec une efficacité ultime. De nombreuses autres caractéristiques uniques, telles que l'encombrement minimum, le niveau sonore le plus bas, l'évolutivité et la récupération de chaleur, placent l'Ultima dans une classe à part.

Pourquoi vous devriez participer:
Connaissances avancées
En savoir plus sur cette dernière innovation dans la technologie des compresseurs sans huile.


Réduire les coûts de fonctionnement
Laissez-nous vous montrer comment l'efficacité supérieure d'Ultima contribuera à une réduction significative de vos coûts d'exploitation, qui peut être encore améliorée grâce à la récupération de chaleur.


Augmenter la fiabilité
Augmentez la fiabilité de votre système d'air comprimé grâce à une maintenance proactive et préventive, complétée par l'utilisation des technologies Industry 4.0.


Des experts pour vos questions
Adressez-vous directement aux experts en air comprimé. Exprimez vos questions et défis pour obtenir des conseils d'experts.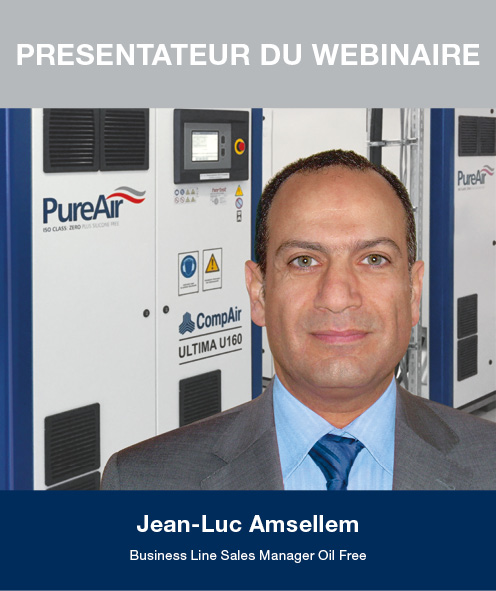 Si vous ne pouvez pas vous joindre au webinaire et souhaitez en savoir plus sur notre technologie Ultima, veuillez regarder la vidéo ou nous contacter.
Voir la vidéo sur les Compresseurs CompAir Ultima