5-axis simultaneous machining, 6-sided turn & mill complete machining as well as technology cycles for gear milling and grinding – DMG MORI offers the highest level of technology integration in one workspace.
By integrating innovative manufacturing technologies in one workspace, process times can be reduced drastically. For this reason, complete machining on 5-axis milling machines, mill & turn centers and turn & mill centers has been a major priority in DMG MORI's product range for many years. The portfolio has been continuously developed, so that today gear milling and grinding are also performed in one and the same clamping. Sophisticated tool solutions and, above all, the exclusive DMG MORI technology cycles increase the versatility of the machines to such an extent that reclamping operations are a thing of the past. This increases the utilization of the machining centers and at the same time creates capacities on other machines that were previously part of the overall process.
With innovative developments in 5-axis simultaneous machining, as well as mill & turn and turn & mill technology, DMG MORI has always been considered an innovation leader in machining. At the same time, the machine tool manufacturer focuses on integrating additional machining technologies to make manufacturing processes even more efficient.
Efficiency through application-oriented technology cycles
As innovative assistants, especially in shop-oriented programming, the exclusive technology cycles have been enriching the work in CNC machining for many years. They create a clear program structure, eliminate errors through dialog guidance and reduce programming time by up to 60 percent. At the same time, valuable technology know-how is stored directly in the respective program, which enables the machine tools to cover a wider range of applications. The portfolio includes over 60 DMG MORI technology cycles and covers a wide range of functions – from handling to measuring and cutting to monitoring.
Manufacturing gears quickly, easily and productively
Among other things, gearboxes are to reliably transmit power or torque, for example in wind turbines or construction machinery. Gears play a decisive role in this. Since contract manufacturers usually do not use special gear cutting machines, they need solutions to produce the demanding workpieces with the existing machinery. Since 2008, DMG MORI has been developing special technology cycles that support users in the complex programming of gearings. The portfolio includes cycles for shaping, gear shaping, gear hobbing and gear peeling, as well as the milling of gears of various types and geometries. With the technology cycles gearBROACHING, gearSHAPING, gearHOBBING, gearSKIVING and gearMILL, an economical complete machining of a wide variety of gears can be realized. Universal machines such as the DMU eVo, DMF and DMU/DMC FD models or turning/milling centers of the NTX and CTX TC series are suitable for this purpose. The advantage here is that due to their versatility, these machines can be optimally utilized even without a gear cutting job. In addition, these technology cycles can be retrofitted very easily.
The technology cycles gearBROACHING, gearSHAPING, gearHOBBING, gearSKIVING and gearMILL in the complex programming of gears.
Milling, turning and grinding in one setup
The technology integration of grinding in the workspace of DMG MORI machining centers or turn & mill centers saves an otherwise common reclamping operation in the manufacturing process of many workpieces. This reduces throughput time and increases component accuracy. DMG MORI achieves the high quality in the grinding process on the one hand through the robust design of its machine tools. On the other hand, an exclusive technology cycle also supports the process here. DMG MORI Grinding offers grinding cycles for internal, external and surface grinding, as well as dressing cycles, which with the integrated AE sensors (acoustic emission) represent a perfect user-friendly solution.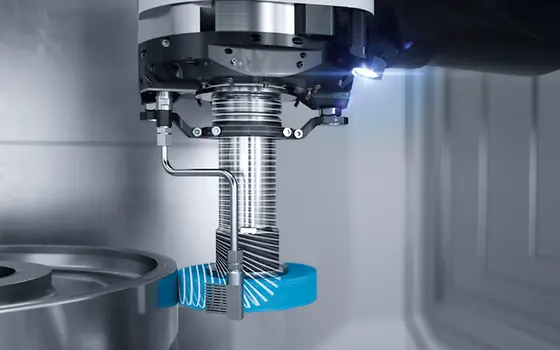 Milling, turning and grinding in one setup reduces throughput time and improves component quality.
Learn more in our Gear Cutting campaign in partnership with the Paul Horn Company at: https://uk.dmgmori.com/solutions/gear-cutting